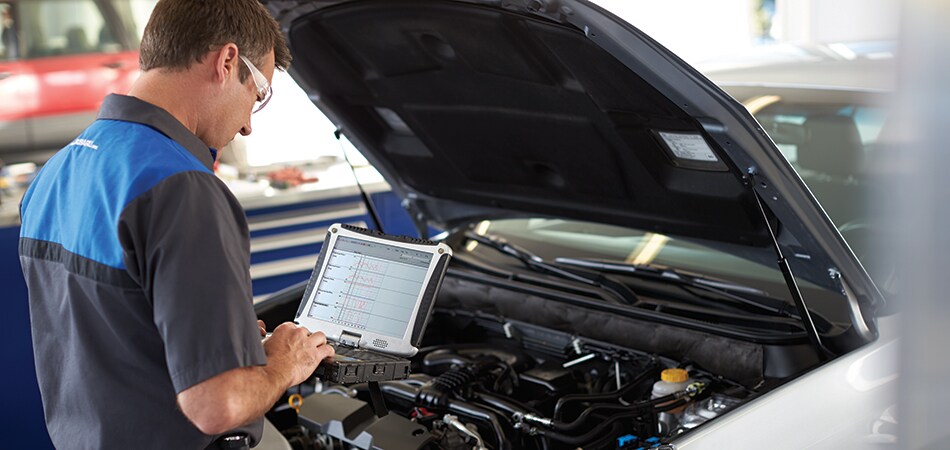 Service Your Subaru Vehicle in Norwich at Benedict Subaru
Subaru is famous for making reliable and high-quality vehicles, but even so, all vehicles need routine maintenance to keep running like new. With a quick trip to our service center at Benedict Subaru, drivers in the Utica and Cortland area can ensure that their vehicles are running at peak performance.
Here at Benedict Subaru, we do more than provide an expansive inventory of new and used vehicles. We have a comprehensive auto service center, with a team of expert technicians who specialize in Subaru maintenance and car repairs. You can count on us for all of your automotive needs, whether your vehicle is new or used!
We are pleased to offer loaner vehicles, a shuttle service, and a newly renovated customer lounge area with Wi-Fi. Our service team in Norwich, NY is eager to help with all of your maintenance needs!
Our Benedict Subaru Technicians are Experts in Quality Maintenance
Allow our technicians to demonstrate their commitment to excellent and convenient service. Our highly-trained technicians know that proper maintenance is necessary to keep your Subaru vehicles running like new. With routine service, your Subaru vehicle will feel the same as it did when you first drove it off our Norwich, NY lot. That's why we offer services like:
Oil changes
Front and rear differential service
Cooling system service
Fluid flushes
And more!
In addition to these services, we also offer complete packages to service vehicles as their mileage increases, which always include a top-to-bottom inspection of your Subaru vehicle to ensure that it stays on the Binghamton and Cortland roads for years to come.
Never Miss a Beat While Your Subaru is Being Serviced
If you're worried about waiting a long time while your Subaru vehicle is being serviced or being without a car, Benedict Subaru is here to alleviate those fears. You can relax in our newly renovated lounge with Wi-Fi, snacks, comfortable seating, and more to make you feel right at home during quick service appointments.
Are you on a tight schedule? Our service center in Norwich, NY offers express service without needing to schedule ahead of time. With express service, your car can be taken care of quickly while you relax in our lounge. These services include:
Multi-Point inspection
Tire rotation
Minor Maintenance
Oil Changes
And don't let service get in the way of your workday-if your service appointment is going to be longer than 45 minutes, we offer a helpful shuttle service to take you to work and bring you back to Benedict Subaru when your vehicle is ready to drive.
We designed our shuttle service to complement your busy lifestyle, so you can carry on business as usual while your vehicle is being serviced by our expert technicians. We also offer loaner vehicles to allow you to carry on life as normal-you won't even notice that your vehicle is off being repaired!
Schedule an Appointment With our Service Center
Scheduling a service appointment is easy with our online service scheduler. Our service center is open six days a week, so we are sure to get your vehicle serviced quickly and easily.
Getting to our Norwich, NY dealership is simple from the surrounding towns of Utica or Oneonta. For directions to our service center from there or from towns like Cortland and Binghamton, be sure to look at our directions page.
At Benedict Subaru's service center, we treat your Subaru like it's our own. We are here to ensure that your maintenance and repairs, whether scheduled or express, are as easy and convenient as possible. Our expert technicians look forward to servicing your vehicle soon!